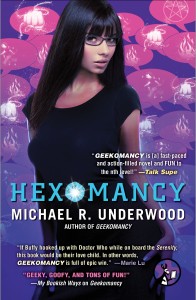 At long last, Hexomancy has arrived!
It's been over a year since Attack the Geek, the last Ree Reyes story, was released, and now Hexomancy closes out the first story arc of the Ree Reyes universe.
If you're not familiar with the Ree Reyes stories, check out this series summary I wrote for XOXO After Dark to see if it catches your fancy.
For long-running readers, here's what you can expect from Hexomancy: More Lucretia, more Drake, more Eastwood and Grognard, but also more of the Rhyming Ladies, and plots from the first three books to come back around for a reckoning. Expect Eastwood's history to figure in a big way, and as always, there's more of the patented Ree Reyes series pop-culture references, geeky jokes, and energetic action-adventure storytelling.
I'm really proud of Hexomancy – I think it's the best novel I've written to-date, in terms of pacing, action, characterization, and interpersonal relationships. I hope you'll enjoy it.
Click here for links to ebook retailers to get your copy now.
Until next time, Geek on!