Bio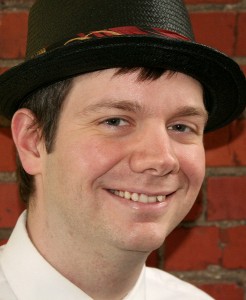 Hello!  I'm Michael R. Underwood (I go by Mike Underwood, but the full name + initial makes Google happier), speculative fiction writer and North American Sales & Marketing Manager for Angry Robot Books. This blog was formerly called 21st Century Geeks.
I hold a B.A. in Creative Mythology (through the Individualized Major Program) and East Asian Studies from Indiana University and a M.A. in Folklore Studies from the University of Oregon.
In 2007, I attended the Clarion West Writers Workshop, which was the biggest boost to my writing career I've had yet.  I've worked as a fiction reader for Fantasy Magazine, as well as writing for PopMatters.com as a DVD reviewer and essayist.
My first novel is an urban fantasy called Geekomancy (published July 2012 by Pocket Star, an imprint of Simon & Schuster). Geekomancy was inspired by stories like Buffy the Vampire Slayer, Clerks, the Dresden Files, and The Middleman, as well as my experiences growing up geek. I am currently revising Celebromancy, the sequel to Geekomancy, which is coming 7/15/2013.
I currently live in NYC with my girlfriend, an ever-growing army of books, and a super-team of dinosaur figurines and stuffed animals.
You can reach me at m(nospace)underwood(at)gmail(dot)com
I am represented by Sara Megibow of Nelson Literary Agency. Film/tv rights to Geekomancy are managed by Jon Cassir of Creative Artists Agency.
Didn't find any related posts :(