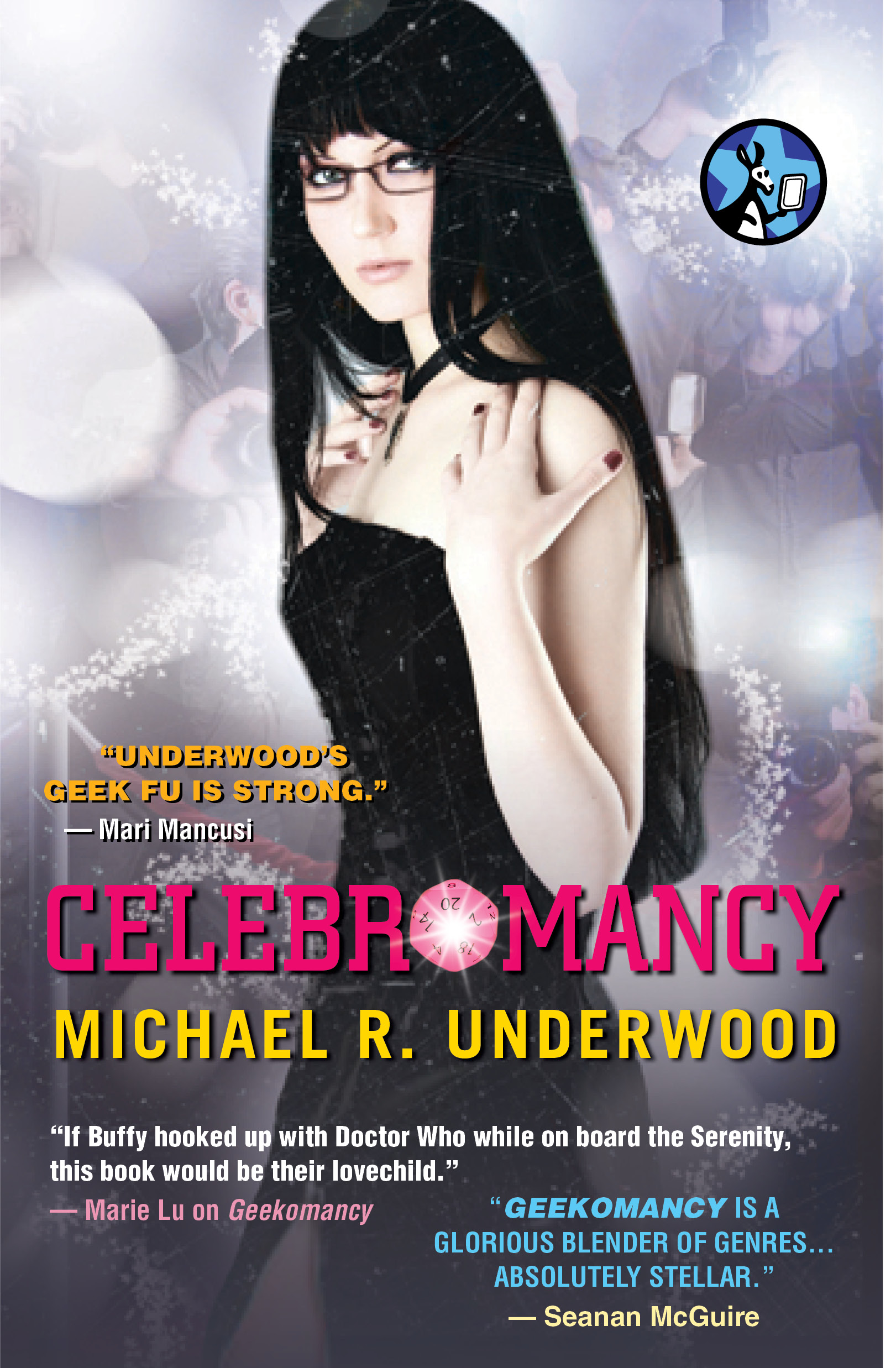 Ree Reyes finally has her big break as a screenwriter. Little problem - the Leading Lady has been cursed by a rival Celebromancer - celebrities who use their fame to distort reality itself. Ree puts on her Urban Fantasy Heroine Hat and enlists the help of Man-out-of-Time Drake Winters to put the curse to rest and save Ree's fledgling career.
About the Book
Fame has a magic all its own in the no-gossip-barred follow-up to Geekomancy.Ree Reyes gets her big screenwriting break, only to discover just how broken Hollywood actually is.

Things are looking up for urban fantasista Ree Reyes. She's using her love of pop culture to fight monsters and protect her hometown as a Geekomancer, and now a real-live production company is shooting her television pilot script.

But nothing is easy in show business. When an invisible figure attacks the leading lady of the show, former child-star-turned-current-hot-mess Jane Konrad, Ree begins a school-of-hard-knocks education in the power of Celebromancy.

Attempting to help Jane Geekomancy-style with Jedi mind tricks and X-Men infiltration techniques, Ree learns more about movie magic than she ever intended. She also learns that real life has the craziest plots: not only must she lift a Hollywood-strength curse, but she needs to save her pilot, negotiate a bizarre love rhombus, and fight monsters straight out of the silver screen. All this without anyone getting killed or, worse, banished to the D-List.
"Michael R. Underwood just keeps getting better and better. We need more urban fantasy like this."
– Seanan McGuire, New York Times bestselling author of Discount Armageddon
Other Books in "Ree Reyes"
Disclosure of Material Connection: Some of the links in the page above are "affiliate links." This means if you click on the link and purchase the item, I will receive an affiliate commission. I am disclosing this in accordance with the Federal Trade Commission's
16 CFR, Part 255
: "Guides Concerning the Use of Endorsements and Testimonials in Advertising."