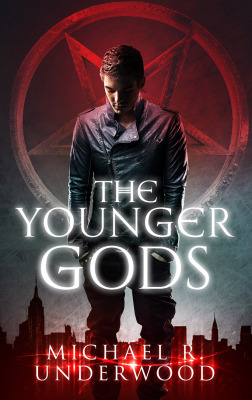 The one moral son in a family of heartless sorcerer cultists flees his family to start over in NYC. But when his sister shows up to kick-start the apocalypse, he has to overcome his social ineptitude and gather allies to stop her, or else the world will burn.
About the Book
Jacob Greene was a sweet boy raised by a loving, tight-knit family…of cultists. He always obeyed, and was so trusted by them that he was the one they sent out on their monthly supply run (food, medicine, pig fetuses, etc.).
Betrayed by his family, Jacob flees the compound and enters the true unknown: college in New York City. It's a very foreign place, the normal world and St. Mark's University. But Jacob's looking for a purpose in life, a way to understand people, and a future that breaks from his less-than-perfect past. However, when his estranged sister arrives in town to kick off the apocalypse, Jacob realizes that if he doesn't gather allies and stop the family's prophecy of destruction from coming true, nobody else will…
Reviews:
"A marvelous start to a new series – heavy on the action that opens up a new world of mythology to enjoy." –Pop.Edit.Lit

"The book is full of thrills and chills, but also continuing struggles and defeats and rising to do the same all over again. I was continually led astray, shocked, surprised and absolutely enthralled by the story. I did not see the ending coming and the conclusion absolutely blew me away. The author created magic when he created The Younger Gods." — Bitten by Books

"Underwood has definitely spun himself a web of complex and intriguing characters and plot, and I can honestly say I look forward to reading whatever else he puts out." – Beans Book Reviews

"The Younger Gods features a strong narrative voice, right from the start. From there, the plot moves at a ridiculous pace, in very intentional sort of way." – Ristea's Reads

"There's so much that goes into Jacob as a character, all of these layers and effects and influences are clear in his character making him very real, very complex and very interesting to follow." – Fangs for the Fantasy

"…a fun and fast paced read that I would recommend to any fan of the paranormal genre that is looking for something a little different." –Avid Reviews

"During the best moments, the complex supernatural network is reminiscent of what I loved about Neil Gaimen's Neverwhere; we're treated to what feels like the tip of the iceberg of a vast and complex world." – Throw This Book At Me

"The Younger Gods is a solid urban fantasy with an interesting premise and characters you can't help but get invested in." – Bibliotropic

"The Younger Gods is another winning novel by Michael R. Underwood, it's a synthesis of fantasy, demonology, and RPG-like missions matched with a very unique cosmology, very entertaining, very engaging…I highly recommend it to fan boys and girls, fantasy readers, and gamers." – Talk Supe

"If you enjoy the supernatural realm with a hint of possibility or are a regular lover of books just to the left of center, then this book (and series) will be perfect for you." – Confessions of a Word Addict

I recommend The Younger Gods for anyone looking for something with a mix of action and emotion. It is very well crafted and I thoroughly enjoyed it. – Book Reviews – Skriletz.net
Disclosure of Material Connection: Some of the links in the page above are "affiliate links." This means if you click on the link and purchase the item, I will receive an affiliate commission. I am disclosing this in accordance with the Federal Trade Commission's
16 CFR, Part 255
: "Guides Concerning the Use of Endorsements and Testimonials in Advertising."