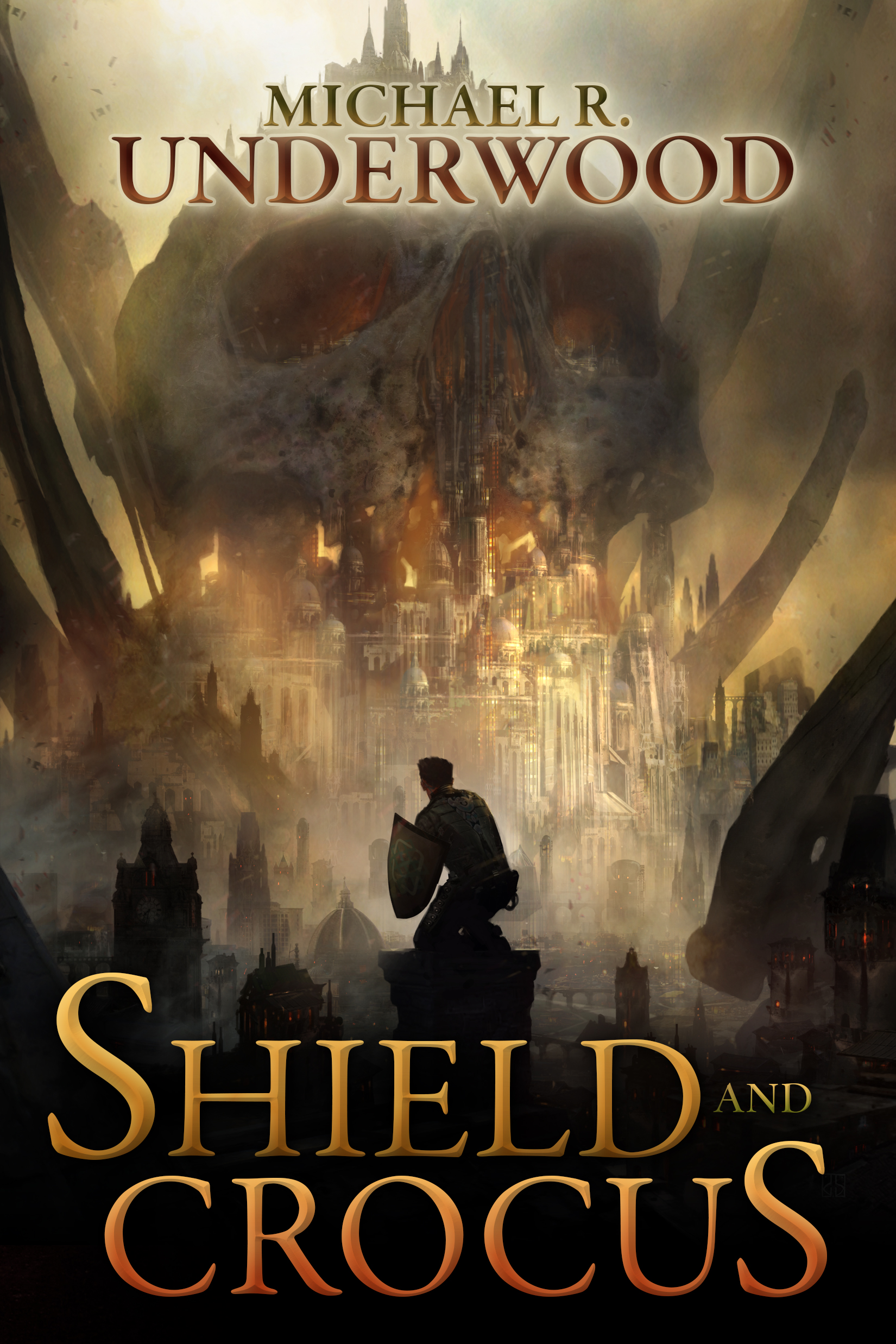 In a city built among the bones of a fallen titan, a desperate group of heroes makes a bargain with their oldest foe to tip the balance of power and try to free their city before the tyrants that rule it can stamp out the heroes' rebellion for good.
Overview
In a city built among the bones of a fallen giant, a small group of heroes looks to reclaim their home from the five criminal tyrants who control it.
The city of Audec-Hal sits among the bones of a Titan. For decades it has suffered under the dominance of five tyrants, all with their own agendas. Their infighting is nothing, though, compared to the mysterious "Spark-storms" that alternate between razing the land and bestowing the citizens with wild, unpredictable abilities. It was one of these storms that gave First Sentinel, leader of the revolutionaries known as the Shields of Audec-Hal, power to control the emotional connections between people—a power that cost him the love of his life.
Now, with nothing left to lose, First Sentinel and the Shields are the only resistance against the city's overlords as they strive to free themselves from the clutches of evil. The only thing they have going for them is that the crime lords are fighting each other as well—that is, until the tyrants agree to a summit that will permanently divide the city and cement their rule of Audec-Hal.
It's one thing to take a stand against oppression, but with the odds stacked against the Shields, it's another thing to actually triumph.
In this stunning, original tale of magic and revolution, Michael R. Underwood creates a cityscape that rivals Ambergris and New Crobuzon in its depth and populates it with heroes and villains that will stay with you forever.
Reviews:
"Underwood switches up from Urban Fantasy to New Weird secondary-world fantasy while maintaining excellent action-adventure beats…Audec-Hal is a wondrous place, with many strange corners and facets, and excellently rendered."
–SF Signal
"Underwood has written another fast, fun, and engaging book…Get your popcorn ready and grab a copy of Shield and Crocus. Summer is here, and summer reads don't come much more enjoyable than this."
–Fantasy Faction
"…this book is a serious contender for anyone's list of the best of the year so far."
–ihate00Critics
"I can't say enough about the mythology and the world building. Underwood put a lot of thought into constructing the world of Audec-Hal, and it shows."
–Beauty in Ruins
"Heroes, villains, and a world like no other."
–Joe's Geekfest
Advance praise:

"Blindingly creative, Shield and Crocus delivers action-packed, four-color fantasy with a lot of heart."
-Michael J. Martinez, author of The Daedalus Incident

"Audec-Hal is a city where dispassionate robots co-exist with mad sorcerers and unpredictable storms that warp the fabric of reality itself. Fans of China Mieville's Perdido Street Station or David Edison's The Waking Engine will surely enjoy the mad inventiveness on display here."
-Marie Brennan, author of A Natural History of Dragons

"The book is fast-paced, especially impressive considering the amount of world-building. The fight is desperate. The tyrants are villains in the truest sense. Superheroes + Epic Fantasy = Awesomeness."
-Beth Cato, author of Clockwork Dagger
Disclosure of Material Connection: Some of the links in the page above are "affiliate links." This means if you click on the link and purchase the item, I will receive an affiliate commission. I am disclosing this in accordance with the Federal Trade Commission's
16 CFR, Part 255
: "Guides Concerning the Use of Endorsements and Testimonials in Advertising."