Genrenauts is a science fiction series in novellas that began in Fall 2015. Imagined as a TV series in prose form, Genrenauts will have six episodes per season, all building toward a larger plot.
In Genrenauts, our Earth is just one of many in a multiverse. Each other Earth is the home to a familiar narrative genre: Westerns, Fantasy, Romance, Crime, etc. Each world is constantly playing out stories from its genre – archetypes and tale types smashing up against one another making tragedies and happily ever afters. But like any system, sometimes entropy takes hold, and a story breaks down. When that happens, the Genrenauts step in to fix the story.
Because if they don't, the dissonance from the broken story ripples over and changes Earth on a fundamental level. (Science Fiction world goes off-track and scientific innovation stagnates, exploration halts; Fantasy world goes off-track and xenophobia rises, cultural rifts widen).
Our series starts when Leah Tang, a struggling stand-up comic, is recruited to join the Genrenauts and discovers that her seemingly useless genre savvy is suddenly an essential skill for survival in the story worlds. She arrives just in time, as story breaches have been ramping up – coming faster and causing more ripples.
Genrenauts has a number of narrative forebears: Quantum Leap, Planetary, Indexing, Leverage, Redshirts, The Middleman, and more. Compared to my other work, the series is most like the Ree Reyes books (Geekomancy, Celebromancy, etc.) but with its own tone and point of view.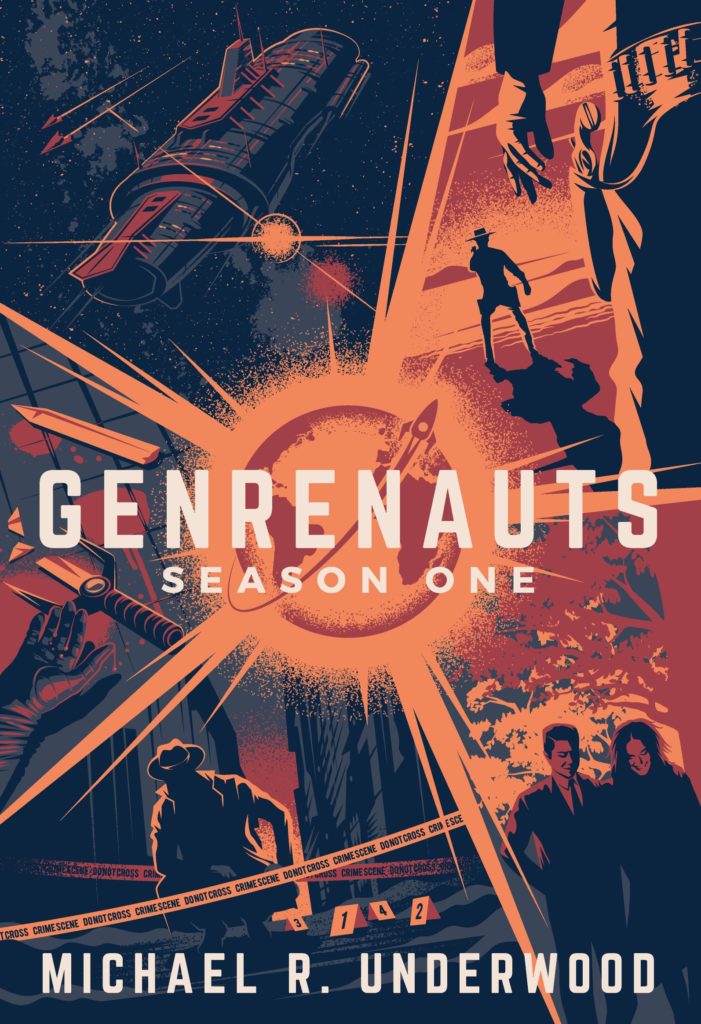 Praise for Genrenauts:
"This is fun…Readers will be looking forward to Leah and company's next trip to a story world."
–Library Journal

"This is one of those high concepts so irresistible, you can't believe no one has come up with it before.
This first installment is a rollicking exploration of western tropes, with hints of a larger conspiracy afoot. Underwood has plans for a lot more of these, and I can't wait to read them."
–Joel Cunningham, Barnes & Noble Sci-Fi & Fantasy Blog

"I have this sinking feeling that the Genrenauts series, with its raucous meta-commentary upon the stories of pop culture, is going to say important things that I might not be clever enough to catch the first time around because I'm too busy enjoying the books."
–Howard Tayler, Hugo Award Winner and creator of Schlock Mercenary

"Who hasn't wanted to imagine themselves parachuting into a story gone wrong and putting it back on track? It's storytelling as heroism, genre savviness as power. Endless fun."
–Marie Brennan, World Fantasy Award-nominated author of A Natural History of Dragons

"A clever, exciting, and seriously fun twist on portal fantasy that sends a geeky stand-up comedian into the Wild West. Sign me up to be a Genrenaut, too!"
–Delilah S. Dawson, author of the Blud series, Hit, and Wake of Vultures, written as Lila Bowen

"My favorite new TV show of 2015 isn't on TV, it's in the pages of Mike Underwood's Genrenauts. Deeply funny and creative, shrewdly insightful, and thrillingly paced, every pop culture diehard will want to keep living vicariously through the characters in this series."
–Matt Wallace, author of the Slingers Saga and Envy of Angels.

"A wonderfully executed idea that uses the strengths and background of the writer to great effect."
–Paul Weimer, SF Signal

"The Shootout Solution is Genre blending fun."
–Fangirl Nation

"A Tardis of a novella, The Shootout Solution is packed full of ideas… The possibilities are endless… Tor.com continues to blaze a bookish trail in terms of both originality and diversity. More like this, please."
–Geek Syndicate
Genrenauts Team Portrait by Fabian Lelay: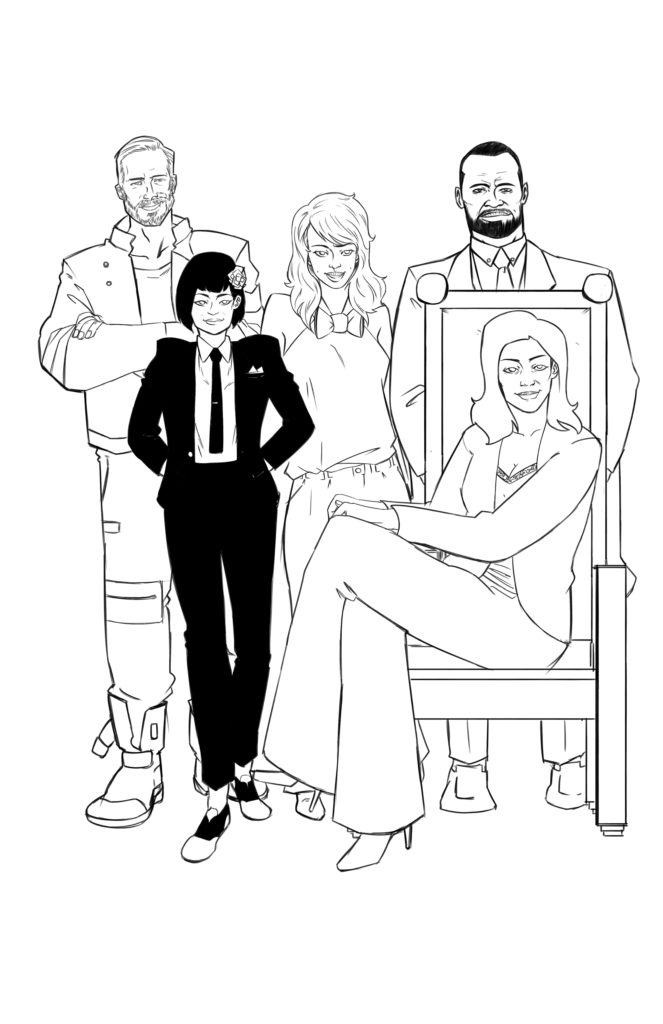 Tor.com Publishing publish the first two novellas in the series.
Episodes 3 and beyond are published directly by Michael R. Underwood.