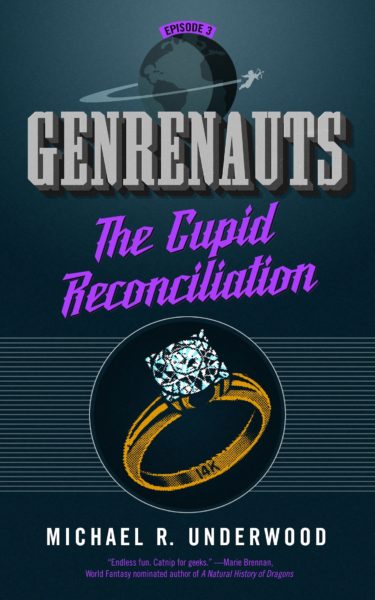 Happily Ever After or Bust!
About the Book
Happy Ever After or Bust!
Wounded Genrenaut Mallery York returns to active duty just in time for the team to be deployed to the Rom-Com region of the Romance world. There, everyone is beautiful, office workers can afford palatial midtown apartments, and hearts are won and broken on every corner.
But before they can fix the broken love story, they have to find it. Mallery takes the lead, bringing her expertise to bear and leading Leah to wonder whether there's a space for her on the team now that Mallery is back.
The team scours dating sites, cocktail bars, and jogging paths looking for the right pair of lovers to reconnect before time runs out and the ripples from the story breach lay waste to romance back on Earth.
This third episode of Genrenauts is a great jumping-on point for new readers. If you like Leverage, Redshirts, or Quantum Leap, check out Genrenauts for an energetic romp through the worlds of story.
Cover design by Sean Glenn.
"With the Genrenauts series, Underwood has crafted a wonderfully delightful series of novellas using the episodic structure of a TV show to tell his tale. This makes for a perfect bit of binge-reading, one that reminds of me shows I loved as a kid like Quantum Leap and the early seasons of Sliders. Think of it as Netflix for the mind."
–Michael Patrick Hicks
"Underwood has a good thing going here, and it's just getting better. Fun, yet thoughtful; action-packed, but pretty restrained in use of force. A great balancing act that should inspire more to do this."
–Irresponsible Reader
"Mike has a breezy conversational way of writing that lends itself well to quips, wordgames, and great characterization. He's able to pack in a lot of quirks and personalities into each of his characters, to really make them separate entities."
–Blackfish Reviews
Other Books in "Genrenauts"
Disclosure of Material Connection: Some of the links in the page above are "affiliate links." This means if you click on the link and purchase the item, I will receive an affiliate commission. I am disclosing this in accordance with the Federal Trade Commission's
16 CFR, Part 255
: "Guides Concerning the Use of Endorsements and Testimonials in Advertising."