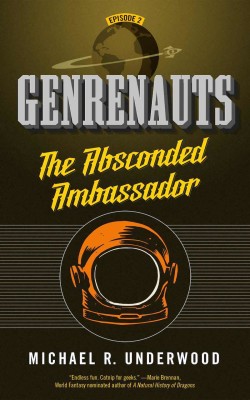 Last Week, She Was Working Open Mics. Now She's Headed to Outer Space.
About the Book
 Last Week, She Was Working Open Mics. Now She's Headed to Outer Space.
Rookie genrenaut Leah Tang gets her first taste of space flight when the team scrambles to fix a story breach in Science Fiction World, the domain of star ships, weird aliens, and galactic intrigue.
On the space station Ahura-3, Ambassador Kaylin Reed is on the verge of securing a peace treaty to guarantee the end of hostilities between some of the galaxy's most ferocious races. When Ambassador Reed is kidnapped the morning before the signing, it throws the station into chaos.
So now it's up to Leah and her team to save the day and put the story to rights.
At any cost.
The second episode of Genrenauts, a science fiction adventure in novellas. If you like Leverage, Redshirts, or Quantum Leap, check out Genrenauts for a brand-new adventure!
Cover design by Peter Lutjen
Reviews:
"In a real sense, [Genrenauts] will help make me a reader more cognizant and aware of conventions and devices in genre fiction, making me a savvier reader for it."
-Paul Weimer, SF Signal
"The second episode in Michael R. Underwood's Genrenauts delivers on the promise of Episode 1, and demonstrates that his special alchemy of Leverage + The Librarians + Quantum Leap + Thursday Next (just my current guess at his secret recipe) has legs — and will hopefully go a long time."
– Irresponsible Reader
"…it's a heck of a lot of fun the way Galaxy Quest is: a little goofy, a little serious but not taking itself too seriously, and filled with a fondness for the source material that gives it weight without weighing down the story."
-Samantha Holloway, New York Journal of Books
As with the previous installment, Mike uses his love of genre to spin a story that would feel right at home in a modern day episode of Star Trek, ramping up quickly, doing it's thing, and then resolving. And just like later season DS9, we get a set of plot threads that we have to tune in next week to see the progression of.
-Alex von der Linden, Blackfish Reviews
"My Genre-loving friends, get ready… we're out of the saddle and back in the Saddle, but this time we've got alien politics, burgeoning alliances, mystery, and enough fast-paced Pew-Pew action to make me think I was in a golden age rocket ship, and indeed, that's the point."
–Brad K. Horner
Praise for The Shootout Solution:
"This is fun…Readers will be looking forward to Leah and company's next trip to a story world."
–Library Journal
"It's an entertaining enough concept, and the diverse cast of characters is a nice change of pace."
–Publishers Weekly
"Who hasn't wanted to imagine themselves parachuting into a story gone wrong and putting it back on track? It's storytelling as heroism, genre savviness as power. Endless fun."
–Marie Brennan, World Fantasy Award-nominated author of A Natural History of Dragons
"A clever, exciting, and seriously fun twist on portal fantasy that sends a geeky stand-up comedian into the Wild West. Sign me up to be a Genrenaut, too!"
–Delilah S. Dawson, author of the Blud series, Hit, and Wake of Vultures, written as Lila Bowen
"My favorite new TV show of 2015 isn't on TV, it's in the pages of Mike Underwood's Genrenauts. Deeply funny and creative, shrewdly insightful, and thrillingly paced, every pop culture diehard will want to keep living vicariously through the characters in this series."
–Matt Wallace, author of the Slingers Saga and Envy of Angels.
"…a rollicking exploration of western tropes, with hints of a larger conspiracy afoot. Underwood has plans for a lot more of these, and I can't wait to read them."
–Joel Cunningham, B&N Sci-Fi & Fantasy Blog
"A wonderfully executed idea that uses the strengths and background of the writer to great effect."
–Paul Weimer, SF Signal
"The Shootout Solution is Genre blending fun."
–Fangirl Nation
"A Tardis of a novella, The Shootout Solution is packed full of ideas… The possibilities are endless… Tor.com continues to blaze a bookish trail in terms of both originality and diversity. More like this, please."
–Geek Syndicate
"Snappy dialogue, twisting plot turns, and efficiently written action scenes combine with a strongly realized protagonist that reminds me of a old friend from my art school days, not a cardboard cut-out of the "strong female character" trope."
–Polychromantium
While the book is short (it is a novella after all) I could not help but get sucked right into the concept. Everything is explained just enough to get me going. The characters are great and interesting, and they included both our main character who is an Asian Female (this is rare as hell) and even had a Transgender lady (male to female). It comes up briefly, and then just moves right on. Its well done, and fun.
–Page Turners, Inc.
"I enjoyed this book tremendously. Leah is a smart, savvy, snarky young woman whose character nicely balances the calm goodheartedness of Shirin, the experienced competency of King, and the attractive cockiness of Roman. They make a great team."
–Fang-Tastic Fiction
"I can see this really appealing to readers who are into browsing TV Tropes, or who liked Ready Player One but want a more satisfying experience."
–One Last Sketch
"We like nerdy Leah and were able to immediately identify with her. She should return for many more episodes!"
–Exploding Spaceship
"It's got a clever, rather cool central idea. It has a plot built around that which keeps up suspense, whilst giving you a protagonist to care about, portrayed well, in a world which feels believable – perhaps by virtue of the setting for that world. I'd like to see more of all of the characters, and really, more of the setting in general, but that's more recommendation than complaint!"
–Sci-Fi and Fantasy Reviews
Other Books in "Genrenauts"
Disclosure of Material Connection: Some of the links in the page above are "affiliate links." This means if you click on the link and purchase the item, I will receive an affiliate commission. I am disclosing this in accordance with the Federal Trade Commission's
16 CFR, Part 255
: "Guides Concerning the Use of Endorsements and Testimonials in Advertising."