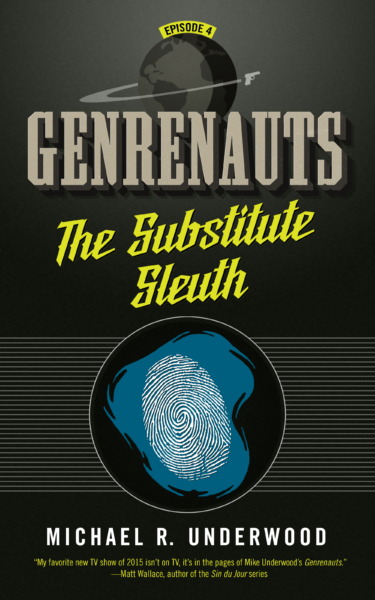 She's a Wacky Comedian. He's a Gruff Detective. They Fight Crime!
About the Book
---
She's a Wacky Comedian. He's a Gruff Detective. They Fight Crime!
It was supposed to be a simple training mission in the Police Procedural region of Crime World. But there's always a twist – when the precinct's favorite wacky private eye is shot, Leah and King must fill the shoes of Odd Couple Detectives to investigate a pair of nested mysteries.
Leah and King work against the clock to fix the breach before falling too deep into their respective roles and losing themselves to the story. And there's more going on here than a simple crime of passion…
The fourth episode the trope-twisting Genrenauts series. If you like Leverage, Redshirts, or Quantum Leap, check out The Substitute Sleuth for an energetic romp through the worlds of story.
Cover design by Sean Glenn.
"Probably more than in the previous adventures, Leah and King lean on and exploit the tropes of this world and region. As a fan of the Whacky Investigator/Straight-Laced Law Officer partner stories/shows, I loved watching the two of them use, critique, and play with the story beats, types and clichés. White Hat hacking, convenient recovery periods after being shot, how clues show up at just the right time, and so on."
– Irresponsible Reader (4 1/2 Star review)
Other Books in "Genrenauts"
Disclosure of Material Connection: Some of the links in the page above are "affiliate links." This means if you click on the link and purchase the item, I will receive an affiliate commission. I am disclosing this in accordance with the Federal Trade Commission's
16 CFR, Part 255
: "Guides Concerning the Use of Endorsements and Testimonials in Advertising."