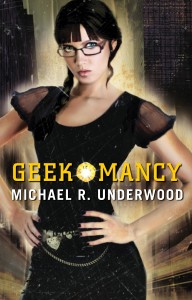 Hello, all – I'm excited to share the news that GEEKOMANCY has been selected as a Kindle Daily Deal today, on sale for just $1.99. This is a great chance to pick up a copy of the book, or to buy a copy for a friend (Amazon has an easy ebook gifting system).
You can find the book on sale here to get a copy for yourself for a friend.
Additionally, I'd love your assistance in spreading the word about the deal – on Twitter, Facebook, Reddit, Google+, etc. Please find below a Tweet-sized message for ease of use:
What it fandom was a magic system? GEEKOMANCY by Michael R. Underwood, a Kindle Daily Deal for just $1.99! http://www.amazon.com/Geekomancy-Ree-Reyes-Book-1-ebook/dp/B007SNRRP8/ref=sr_1_1?ie=UTF8&qid=1432474904&sr=8-1&keywords=geekomancy
With your help, we're hoping to get the word out about GEEKOMANCY to lots of new readers who can then enjoy the series as we lead up to the release of HEXOMANCY in September.
Geek on!