Hexomancy has been out in the world for one week, and I'm quite happy at the sales #s so far. Thank you so much to the folks who pre-ordered, spread the word, and so on.
This was a special book for me – I wrote it in just over a month, thanks to an improved outlining process and getting into a great writing rhythm. I had a ton of ideas of what I wanted to happen in the book, and I knew the characters really well, so I was able to let loose during the drafting process.
Here's a recap of my latest PROMONADO activity:
The first review round-up from last week.
I shared my Favorite Pop-Culture Geeks over at SF Signal.
Kingdom of Evil Podcast – I talk about book publicity/promotion
Last Chance Salon Podcast – Writing! Star Wars! Laughter!
Reader Mari live-tweeted her reading of HEXOMANCY and it was amazing. There are some substantial spoilers involved, so be forewarned.
"Hexomancy hits all my sweet spots for good crunchy urban fantasy fiction, with laugh out loud snark-studded dialogue, just the right amount of nostalgic callbacks to things geeks of all genre-spheres will love, and crisply paced prose that moves the story forward at downhill-on-black-ice-slope's pace."
If you haven't picked up your copy of Hexomancy, here's a handy page with an index of the various ebook retailers.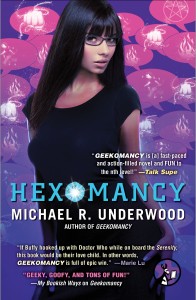 And if you've read Hexomancy, please consider leaving an honest review on the various retailer sites. They have a big impact on discovery, helping readers decide if it's a book for them.
Bonus! If you're attending the Baltimore Book Festival this week, come to my panels or swing by during the meet-and-greet to say hello!