Hexomancy is here, but several folks have already read it, thanks to the wonders of NetGalley. And lucky for me, they seem to be loving the book, which makes my geeky heart soar. It means a lot to me that people are still reading and reviewing the series four books in, since it's often very hard to get reviews of books after the first in the series.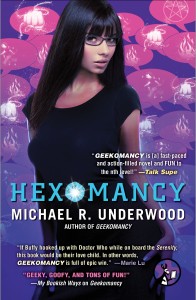 Michael Underwood scores full points for a perfect hit with Hexomancy, drawing (at least the first cycle) of the Ree Reyes series (which include Geekomancy and Celebromancy along with the novella, Attack the Geek) to a full-on fun while satisfying ending. You know those episode-ending scenes around the table of Serenity from Firefly? There is a sense of camaraderie, coming home with people and life seeming to fit (even with chaos around the corner). That's what Hexomancy is for me.

Brainfluff gives some love to the series' lead:
Ree is an engaging, likeable heroine, with an interesting backstory. She is a 'glass half full' lass, rather than the tortured, angsty type, so the overall tone is fairly upbeat despite the various disasters and mayhem that befalls them. I enjoyed her positive energetic outlook and the buzz of the bar, Grognard's, where she works as a waitress is effectively captured. That said, it isn't all a bundle of laughs. Underwood handles the building threat well, and the action scenes whip through with plenty of tension – more so, because he isn't afraid of offing significant characters. There was also a couple of pleasing story twists I didn't see coming.


James at Fragile Muse loves the fun and calls out one of the primary influences of the series:
First and foremost, these books are FUN! Michael Underwood wears his geek cred on his sleeve, much like Ernest Cline who wrote Ready Player One and Armada. However, instead of just dropping geek references, he weaves our shared love of all these properties, characters and culture into the fabric of the engine which drives Ree's powers.
There's nothing quite like this series. The rules are well defined, the characters are interesting, and the utter truckload of geeky nostalgia plows through me like the power of the dark side. Or is that Hexomancy? Hmm.

And the fine folks at Talk Supe say they Loved It:
Hexomancy was a satisfying and exciting conclusion to the first arc of Ree Reyes. There are new things that come up, when a door closes, another one opens…I'm really looking forward to reading what's next for our adorable heroine.
In addition to squeeing over reviews, I've been making the promotional rounds to support Hexomancy. Here's the first batch of fun:
I was the first-ever guest interviewed on Last Chance Salon Podcast (how cool!), talking about my writing journey, the Ree Reyes books, Force Friday, and more.
Over at Literary Escapism, I reflect on changes in the world of geekdom and pop culture since Geekomancy was released in the summer of 2012.
And if you're on the fence about the books or your memory is foggy about what's happened before Hexomancy, I gave an introduction and summary of the series at XOXO After Dark.
If you're planning to buy Hexomancy and haven't done so already, please consider picking it up this week. First week sales are an important indicator to a book's publisher, and it helps drive momentum and discovery. Also, if you've already read the book, please consider leaving a review on the ebook retailers (as many as you care to cross-post to), as those also drive discovery.
And if you've done all of the above (my heroes!) and are hungry for more, don't fret! Genrenauts: The Shootout Solution is only 2 months and 2 days away, and is specifically designed to be fun for Ree Reyes readers while also being totally their own thing.