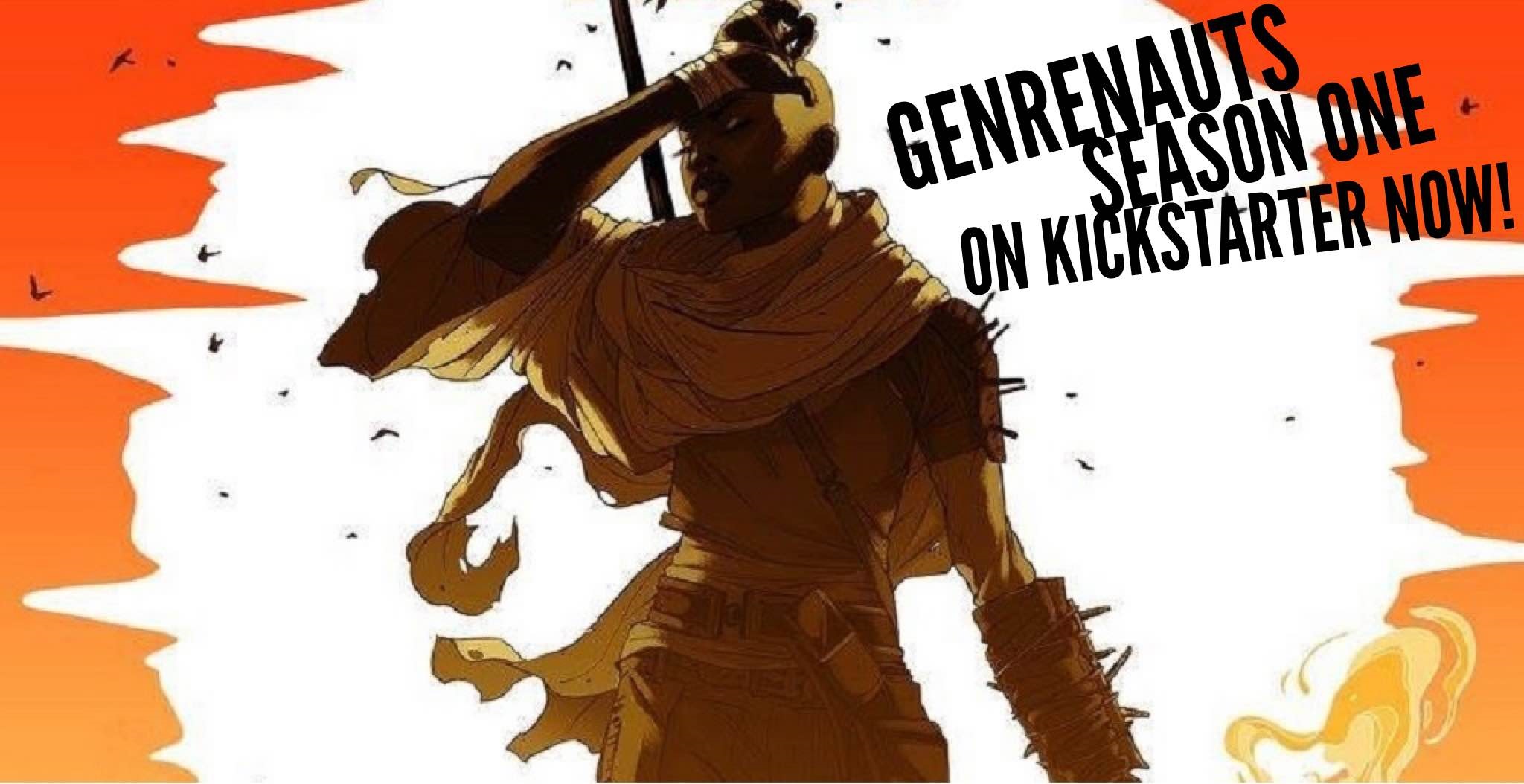 The Genrenauts Kickstarter has just over 48 hours to go, and as of writing this post, has 251 backers and is $2,414 away from the first audiobook stretch goal. That is still possible, especially considering the final 48 hours of activity I've seen in some other Kickstarter campaigns. A lot of people will hit the star button on a campaign (next to the funding button), which then prompts Kickstarter to remind them when the campaign is 48 hours away from ending. Kickstarter's search engine also has a 'campaigns ending soon' category, which we'll be in starting later today.
The campaign's success is already paying dividends – I published THE CUPID RECONCILIATION last week, and have commissioned the cover for THE SUBSTITUTE SLEUTH. I am also assembling notes and ideas for the cover for the omnibus edition to discuss with Sean Glenn, the designer for the campaign.
So now is the time for one last round of signal-boosting, word-spreading, and holding out the hat. With your help, I'll be able to make Genrenauts bigger and better.
As a reminder, here are the basic reward levels:
RECRUIT ($10) – You can get the entire season one collection in ebook.
GENRENAUT ($25) – You get the print omnibus edition of the season one collection PLUS the ebook.
GENRENAUTS FIELD OFFICE ($50) – This is the reward level for retailers (bookstores) and libraries. Only applicable if you are a retailer looking to sell the book or are buying for a public/academic/school library. You'll receive five signed paperback editions of the Genrenauts Season One Omnibus, PLUS the ebooks, PLUS eARCs of every episode of GENRENAUTS Season Two.
SPECIALIST ($75) – You get a limited signed and numbered hardcover of the season one collection, plus the ebook.
VETERAN GENRENAUT ($100) – You get a limited signed & numbered hardcover, the ebook, eARCs of episodes 3-6 as they're available, and ebook editions of Episodes 3-6 as they publish. You also get access to a limited high-level-backers-only Google Hangout at the end of the campaign.
There are still some high-level backer rewards available that would help the campaign reach the stretch goals. They are:
NARRATIVE TRAINING ($250 – 1 available) – A detailed critique of up to 10,000 words of fiction. You also get the $100 reward.
GENRENAUT CONSULTATION ($500 – 2 available) – A detailed critique of 25,000 words of fiction, plus everything from the $100 level, and an up-to-one-hour video conference with me to talk about the story and/or publishing/etc.
DINE WITH THE GENRENAUTS ($500 – 1 available) – Everything from the $100 reward AND a quality dinner at a convention with me sometime in the next year (exact con to be mutually decided on), where we'll talk about publishing, writing, fencing, geekdom, etc.
HIGH COUNCIL ($1,000 – 2 available) – Everything from the $100 level, and you will be credited as an Executive Producer on Genrenauts Season One, AND when I begin writing Genrenauts Season Two, you will be credited as an Executive Producer, and we will work closely together to determine the genres, plots, and tropes used in the second season. Like the High Council and the Genrenauts, you will help guide the team and their missions. As the author, I will have final say on narrative choices. You will also receive signed & personalized paperback copy of SHIELD & CROCUS, PLUS signed & personalized copies of THE SHOOTOUT SOLUTION and THE ABSCONDED AMBASSADOR, PLUS ebook copies of every Genrenauts story ever published (past and future).
And don't forget the whimsy goals!
These are stretch goals not to unlock more Genrenauts content, but to get me to do fun and ridiculous things. Just another way of getting people excited about the campaign.
YOUTHFUL EMBARRASSMENT – If the campaign reaches 300 backers, I will record a reading of some of my early fiction, including stories written in college. It will be embarrassing, and it will be awesome.
HAMILTON COVER – If we sell out of the NARRATIVE TRAINING ($250) OR GENRENAUTS CONSULATION ($500) backer levels during the campaign, I will post a video of me covering "You'll be Back" from the Hamilton musical. Backers will see the video first. If we sell out of both levels, I will cosplay as Balmer King George III for the performance (Balmer King George = Kitschy as hell, because Baltimore)
LIVE-TWEET OF SUFFERING – For every audiobook stretch goal we hit, I will live-tweet a ridiculous SF/F movie. Options include CLASH OF THE TITANS, STARCRASH, and LADYHAWKE. Backers will vote on which movie(s) to watch.
So again, if you haven't backed but intend to, now is the time for action!