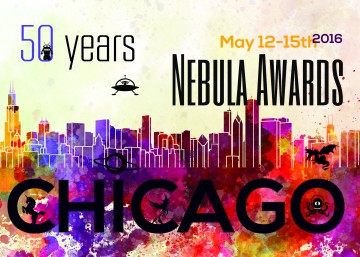 Last weekend, I had the fortune of attending the 50th Annual Nebula Awards Conference. I originally wasn't planning on attending, due to an already-full con schedule, but a friend pitched me on the con, with an intent of having me participate in programming. And the panels being discussed were amazing.
Thanks to the fact that it was a professional conference instead of a consumer show, I managed to avoid coming back totally exhausted. So that's already a win in my book, considering that I was sick for almost two weeks after C2E2.
A while back, I mused on Twitter that I wanted to see an honest-to-goodness SF/F ProCon, with a professional development focus, integrating self-publishing, traditional, and other hybrid paths. I am very happy to report that the Nebula Conference is in fact such a ProCon.
I attended programming that I wasn't participating in, including panels on career longevity, Kickstarter, and more. It's been a while since I attended much programming that 1) I wasn't participating in or 2) didn't include friends and AR authors. I usually just hang out and socialize, since not as many panels offer a lot to me these days, unless they're more advanced in their discussions). And there was so much good programming that the fact that I was on four panel slots meant that there were even more good items that I had to miss.
My other programming highlight was the Ask an Expert sessions, where representatives from KDP, ACX, Patreon, Kickstarter, and other major companies were in attendance and making time for individual discussions. I got a lot of very useful, specific answers to questions I'd had about indie/self-publishing, and feel even more prepared as I move into being a hybrid author.
My own programming was some of the best that I've been a part of, and audiences seemed to get a lot out of the sessions. We had very good questions and comments from the audience in the Future of Racism panel, and my How To Hand-Sell presentation went over very well, though next year I will definitely want a projector or white-board in order to write out my Hand-Selling flow-chart.
The Moral Responsibility of the Storyteller panel was very powerful, and my fellow panelists and our moderator did a great job of handling a potentially fraught topic with a lot of grace and compassion. My last programming item – promotional boot camp, was incredibly efficient and well-directed, as our moderator (Fonda Lee) solicited questions/topics at the beginning and used those to guide the conversation rather than hoping we'd cover what people wanted to hear about.
The other big programming item for me was the Mass Autographing session on Friday night, open to the public. I sold several books, signed even more, and got to catch up with several friends. I had my iPad set up with the Genrenauts Kickstarter information to help spread the word and to be one more way for me to draw people to my table. It seemed to work pretty well!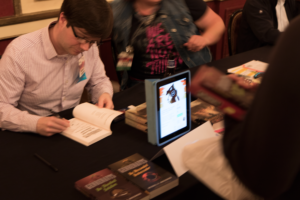 Since the Nebula Conference moves every two years, it may be harder to build up momentum, and there's definitely some more work to be done in local outreach to make sure that the autographing sessions reach the largest possible audience. But it was already one of the best signing experiences I've had.
And on Saturday night was the Nebula Awards ceremony itself. John Hodgman was a fabulous toastmaster, with a great stand-up set about science fiction, including Dune references, the role that SF/F literature plays in society, and his attempt at pitching a novel to the entire room.
And then the nominees and winners. What an an amazing list of works! It was a great night for Team Once and Future Baltimore, as Fran Wilde took home the Andre Norton Award for her debut Updraft, and Sarah Pinsker (with whom I host Dangerous Voices Variety Hour) won Best Novelette with "Our Lady of the Open Road."
Fellow Tor.com Publishing writer Nnedi Okorafor won Best Novella for her excellent story Binti, which you should also totally read.
It was a night full of heartfelt appreciation and recognition of the breadth and depth of what SF/F has to offer, and it gave me a lot of hope and excitement for the future of the genre.
I am already thinking about my plans to attend the Nebula Conference next year, when it moves to Pittsburgh. I highly recommend the con to any SF/F writer looking to make connections in the field, participate in SFWA, and/or pursue professional development in craft and/or business skills.
---
The Genrenauts Complete Season One Collection Kickstarter is going strong, already 80% funded. Help us hit our goal and push onward to audiobook editions!