Hi all! One of the best things about being a writer in Baltimore is that the city's book festival every fall. SFWA runs an entire mini-convention throughout the festival, and I'll be there this weekend (as well as splitting my time with the Baltimore Comic-Con, checking in with my comics friends).
Here's where you can find me at the book festival:
Friday, September 25th
11am – The Revolution Will Be Science Fictional and Fantastic

What to read in SF/F and where to find it! Our panel looks at the latest trends in SF/F and the books people are talking about this year.
Emmie Mears, Cat Rambo, Fran Wilde, Michael R. Underwood
12pm – Comics! Science Fiction! Fantasy!
POW! BAM! See how comics, science fiction, and fantasy inform each other. Are superhero stories fantasy, science fiction, or both? Which non-superhero SF/F comics should you be reading? What's up with novels about superheroes? From Saga to Ms. Marvel to Kavalier & Clay, our panel will discuss it all.
Bill Campbell, Anne Gray, Cat Rambo, Michael R. Underwood
1pm – Reading Group 1 – Superheroes, SF, and Action!
Sit down and discover your new favorite author! Four writers, one hour.
DH Aire, Tom Doyle, Cat Rambo, Michael R. Underwood
Saturday, September 26th
12pm – Dangerous Voices Variety Hour
A fast-paced quiz show in the vein of Wait Wait Don't Tell Me! brought to you by the Baltimore Science Fiction Society. Win free books and learn things you never knew about your favorite authors.
Tobias S. Buckell, Sarah Pinsker, Michael R. Underwood, Diana Peterfreund
6pm – Meet The Authors Social
Rub elbows with your new favorite science fiction and fantasy authors at this annual event.
All the Attending Authors
Here's a map of the festival: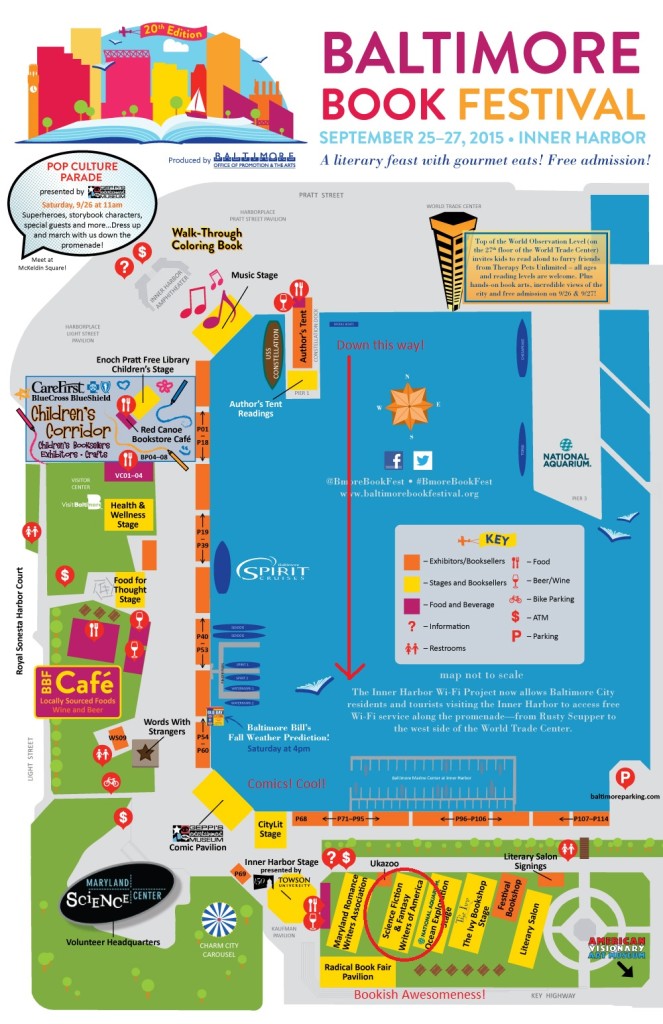 The fine folks at Ukazoo will be handling book sales, and I'll be bringing some swag for my various books, current and upcoming. See you there!