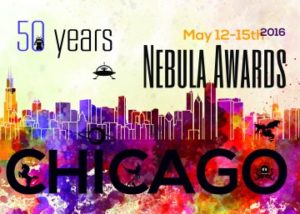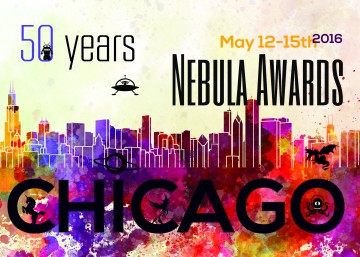 Hello all!
This week, I'll be traveling to Chicago for the Nebula Conference, put on by SFWA, the SF/F writers professional guild (I've been a proud member for basically my entire professional career).
I wasn't planning on attending the conference this year, but a SFWA faerie convinced me to attend and present on some programming. Therefore, I'm very excited for what I've got lined up during the conference.
You can find my schedule here on the official site, but I'm copying it below for ease of use.
Also, if you're in Chicago this week but don't have a ticket for the conference, please check out the Mass Signing on Friday evening, which is open to anyone and everyone.
Thursday, May 12th
3pm – The Future of Racism
Jennifer Cross (Moderator), Liz Argall, Tanya DePass, Michael R. Underwood
The past's virulent racism against the Irish has now faded to linguistic artifacts like "paddy wagon" and "red-headed stepchild." What traces will present-day racism leave behind, and what new forms of racism will emerge?
4pm – How To Hand-Sell Your Book
Michael R. Underwood
Lessons from 7 years of hand-selling books to readers, booksellers, and sales reps, for writers looking to learn how to hand-sell their books at conventions or related events.
(I've been given a full hour to present on this topic, which means we should really be able to dig deep – I'm also hoping to do some workshopping/role-play to talk through the techniques.)
Friday, May 13th
8:00pm – 9:30pm – Mass Signing
In the Red Lacquer Room
I'll join the many fabulous attending authors (including Nebula Award finalists!) in a mass signing. This event is open to the public – you do not need to be registered for the Nebulas Conference to attend! Come by and say hello! I'll have copies of Genrenauts on-hand and will be happy to talk about publishing, my Kickstarter, and/or the many feels Captain America: Civil War gave us.
Saturday, May 14th
2:00pm – 3:00pm – The Moral Responsibility of the Storyteller
Alyssa Wong (Moderator), C.S.E. Cooney, E.J. Fischer, Michael R. Underwood
Society is shaped by narrative. What moral responsibility do storytellers have to consider the larger context in which their work appears? And how do we handle that responsibility, especially when writing outside of our own experiences, or presenting ours when they don't fit dominant Western (esp. American) narratives or ideas of what a certain story 'should' be?
3:00pm – 4:00pm – Promotional Bootcamp
Fonda Lee (Moderator), Patty Garcia, Michael R. Underwood, Ellen Wright
Whether a traditionally published or self published author, you're told that you need to promote your book. This panel of publicity and marketing professionals takes a hard look at what does and doesn't work for promoting your work.
—
Other than these schedule items, I'll be hanging out chatting with the other attendees – If you're attending the conference and would like some help meeting people, please feel free to approach me  when I'm out and about – mention this post, and I'll do my best to help introduce you around.