She's a Wacky Comedian. He's a Gruff Detective. They Fight Crime!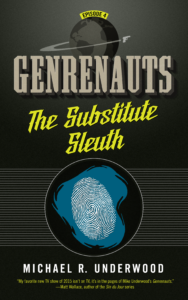 Today, Genrenauts continues with Episode 4 – The Substitute Sleuth.
This episode draws on contemporary police procedurals like Castle, Psych, Lie to Me, White Collar, and others. It puts Leah Tang on the spot in a big way, and dives into Angstrom King's backstory. It also kicks the season into high gear as we barrel forward into the season finale.
You can buy your copy direct via Gumroad.
Or on: Kindle  Nook  Kobo  iTunes
The first season of Genrenauts will conclude with The Failed Fellowship, the two-part finale, coming in October!
To whet your appetite, here's the first chapter of The Substitute Sleuth: