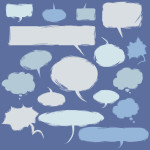 A couple of weeks ago, I announced that I was joining Speculate! The Podcast for Writers, Readers, and Fans, taking up the duties of co-host while co-founder Bradley P. Beaulieu takes a temporary hiatus to focus on his writing.
I've known both Brad and the other co-founder, Gregory A. Wilson, for several years now – we've hung out at cons, at various publishing events, and so on. I've been a fan of Speculate! for nearly as long. I've appeared as a guest or guest co-host a couple of times before I joined the show:
#55 – State of the Field – Alongside Mary Robinette Kowal
#94 – Turn the Mic interview with Gregory A. Wilson
#138 – Paths to Publication – alongside Wesley Chu
#140 – Guest Hosting for the Paths to Publication series with Bradley P. Beaulieu and Gregory A. Wilson 
If you don't listen to Speculate!, here's what I think makes it special:
In addition to author interviews, Speculate has a triptych format, which I think is really cool.
Each triptych will focus on one novel or collection, and is broken down like so:
Part 1 – is a Reader Response show, where the hosts discuss overall impressions of the work as readers. It's a good review/overview of the work, which is great set-up for part two.
Part 2 – Author Interview – a discussion with the creator of the work (whenever possible), with questions the hosts had about the work and other discussions which dig far deeper into the work, its social/personal context, as well as questions of process and aesthetics. Greg and Brad are some of the best interviewers in SF/F, for my money, and I've got a high bar to live up to in joining them.
Part 3 – The Writing Technique – these episodes are now set aside for special access only by Patreon supporters. They are writer-oriented discussions between the hosts about aspects of craft displayed in the work, with close readings and unpacking of the creator(s)'s techniques and how other writers might learn from them.
Here's an example Triptych, focusing on Robin Hobb/Megan Lindholm's The Inheritance & Other Stories:
Part One – Reader Response
Part Two – Author Interview
Part Three – Writing Technique
Greg and I are discussing possible Triptych subjects for the near future, as well as some other fun shows. Greg and I have many shared interests in gaming and narrative outside the prose form, so we've discussed some episodes branching out into coverage of other media, as well as gaming (which the show has done some before).
My hope is to bring my perspective and experience to the show without it becoming too different. It's not unlike how I imagine it'd be coming in to an iconic run on a superhero comic, filling in for the writer or one of the artists, but not all of the roles at once. It's the same show, and part of the team is the same, but over time, I'll be helping shape what people think of when they think of the show, and hope to add to its already strong legacy.
If you're worried that this means I am leaving The Skiffy and Fanty Show, don't be. I am still a co-host there as well, mostly appearing in media-centric episodes and the occasional interview/discussion. What this really means is that if you like what I have to say about SF/F, now there are even more chances to hear me do so in the world of Podcastery.
EDIT: And if you like what you hear in Speculate! please consider contributing to the show's Patreon.