I'm very pleased to share the news that Macmillan Entertainment is going to be representing Genrenauts for TV/Film rights. This is not an option sale – it's the equivalent of when I partnered with Jon Cassir at CAA a couple of years back for him to represent Geekomancy for media rights. This means that Macmillan Entertainment is sending the book out to producers, production companies, etc. and serving as my advocate in offers for film/TV rights.
I had a good chat with Brendan Deneen, the head at Macmillan Entertainment when we were talking about a partnership, and he totally gets Genrenauts and what makes it tick, including a lot of my biggest influences. I'm very excited to see what comes next.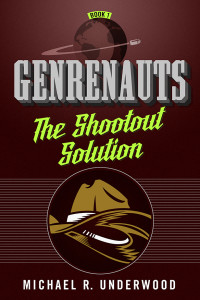 And as a reminder, you can pre-order Genrenauts: The Shootout Solution right now in trade paperback, ebook, and audiobook. November 17th is getting very close now. I can't wait to introduce you all to Leah, King, and the whole Genrenauts team.