Or: We Got to be in the Room Where it Happened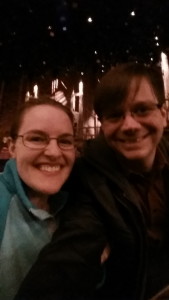 So yeah, that happened.
Meg and I visited NYC over the weekend to celebrate my birthday and to take a short vacation. We visited old haunts, explored the vast halls of the Met, and played the Hamilton lottery, just in case.
We lost on Friday, twice on Saturday, but then on Sunday, emerging from the subway as we made our way to Caracas for lunch, Meg looked at her phone and said, in a surprisingly calm voice, "I won."
I managed to not scream and shout with joy in the corner market where we stopped to buy tickets. There was dancing, however. And it's really good we decided to hit lunch when we did, since we had a mere 11 minutes to spare when Meg got the lottery notification.
The first thing I noticed walking into the theater itself is that the Richard Rogers is not a large theater. It holds 1,319, but it looks much smaller.
The stage set up is modular and mobile, with rotating floor sections and moving stage fixtures and a balcony in the background: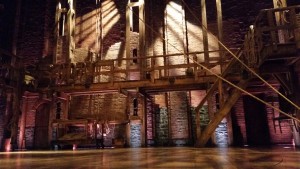 Since we had lottery tickets, we were in the front row, on the right hand side of the center section. This meant that we were looking up at the performance the whole time, which helped create a sense of epic wonder – that these performers were larger than life, as was their story.
Because it was a Sunday matinee, the title role was played by Javier Muñoz, rather than Lin-Manuel Miranda. Since I've listened to the show's OST many times, having that major difference helped make the live show a wholly distinct experience. Muñoz's performance is a bit more Broadway than Manuel-Miranda's, stronger in the singing and a bit less fluent in the rapping.
Leslie Odom, Jr. is AMAZING as Aaron Burr. I'd already been really impressed by his work as Burr in the few videos I've seen and in the OST, but seeing him in person, the passion and polish in his performance totally blew me away. Daveed Diggs as Lafayette/Jefferson is even more hilarious than I'd imagined – Diggs fills moments and elevates scenes with his reactions and fantastic physical comedy. Also worth calling out for delight is Jonathan Groff's King George, who uses a full range of comedic tools to make his numbers and scenes laugh-out-loud funny, including participating in "The Reynolds Pamphlet," which I hadn't realized was part of the show – he dances around the stage celebrating Hamilton's self-destructive move, along with Jefferson and company.
And if there is any justice, Phillipa Soo will have a long and celebrated career in Broadway, because DAMN she is brilliant. The Schuyler Sisters (Phillipa Soo, Jasmine Cephas-Jones, and Renee Elise Goldsberry) have great rapport, and their number is incredibly fun.
Even having heard the soundtrack several times, the performances moved me to tears twice in act one, and three times in act two.
Other notes from seeing the full performance:
Muñoz and Odom Jr. do a great job of portraying the complicated friendship/rivalry/enmity between Hamilton and Burr. Muñoz's Hamilton shows naked ambition and arrogance in key moments, showing how he alienates the people around him, including those in his closest confidence (Washington, Burr, and his own wife Eliza).
There's much more b-boy and pop & lock in the ensemble's dance pieces than I thought – it was really cool to see.
Jon Rua (an ensemble player and Hamilton understudy, who usually plays Charles Lee) has the most boss undercut I've seen. Like, seriously, Undercut Goals. He could be the rival-friend in a martial arts anime.
I got a T-Shirt. It's the "Just Like My Country – Young, Scrappy, and Hungry" and it will be my new Writing Power-Up shirt.
If you buy drinks, they come in Hamilton cups. They're cool, but they'e plastic. I would happily buy Hamilton pint glasses. Can you say strategic partnership with the Sam Adams Brewing Company?
OMG HAMILTON!
Of course, now I want to see the show again with Lin-Manuel Miranda, but I may be waiting quite a while. Even having seen the show, I still really want the original cast to do at least one weekend live-cast to movie theaters the way some operas have done. They could charge $25 a seat and make tens of millions in one weekend. The show has legit, Tumblr-level fandom, and a huge % of those fans cannot afford tickets and/or the cost to come to NYC to play the lottery, but are no less devoted. I'll be interested to see how Miranda and the team continues to deal with the show's phenomenon status.
Now, back to my regularly scheduled program of singing Hamilton songs to myself as I work.
---
Mike's latest book is The Absconded Ambassador – Genrenauts Episode 2. Weird aliens, diplomatic wrangling, space dogfights, genre ruminations, and more: