Last Friday, Atomic Books hosted the launch for Shield and Crocus, my first book in paperback format. It was amazing, wonderful, and I will cherish the memory for all of my days.
I was greeted by a lovely stack of bookness upon my arrival: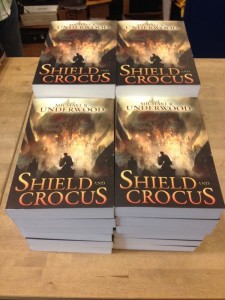 I took the lay of the land, remembering how cool it was to be in a book/comic shop with its very own bar: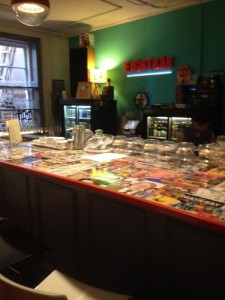 When the time came, Benn from Atomic introduced me, and I faced the crowd (it got even bigger later!)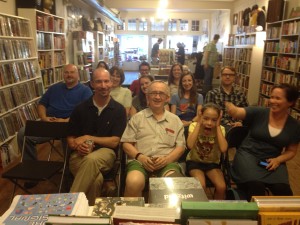 Fellow Codexian and Team Novelocity member Fran Wilde snapped this photo during my reading, which I love and very well may want to use as my next author photo: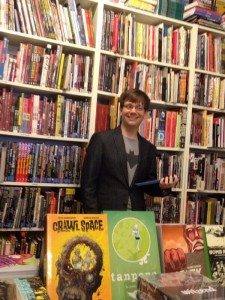 I read from the beginning of Shield and Crocus (featuring a messy apartment, a grappling hook, and robot voices), answered a few questions, and then we broke out into social time. I was excited to meet several fellow writers in the area, re-connect with local friends, and make several new friends.
There was even cake! (It was not a lie)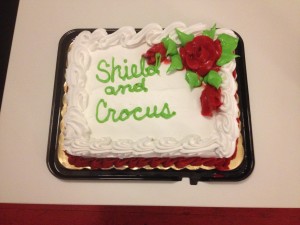 And I was so excited as we were arriving that I didn't even notice the poster they put in the front window! We snapped a quick picture before heading home for the night.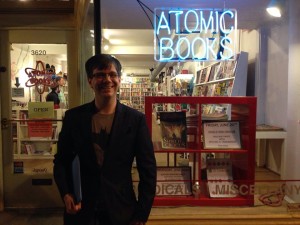 Thank you  to Atomic Books for hosting me, and to everyone who came out to help launch the book!
For those who weren't able to make it, Atomic Books still has a number of signed copies of Shield and Crocus, which you can order from their website.