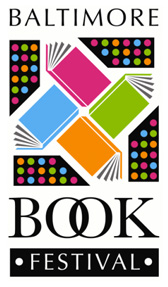 This weekend is the Baltimore Book Festival! Normally held in the Historic Mt. Vernon district, this year the festival is happening in Baltimore's Inner Harbor, which should lead to even more foot traffic, assuming the weather holds.
I'll be participating in events over the weekend, mostly at the SFWA tent. Here's my schedule!
Saturday, September 27th
12PM-2PM — Dangerous Voices Variety Hour with Marissa Meyer and Charles Gannon
The Dangerous Voices Variety Hour takes its cues from NPR's "Wait, Wait Don'T Tell Me" quiz show and Orson Welles' original War of the Worlds broadcast. It features readings, trivia, great prizes, irreverent author interviews, and more fun than you thought you could have at a reading."
Participants: Marissa Meyer and Charles Gannon. Co-hosted by Sarah Pinsker and Michael Underwood.
4PM-5PM — How can I get my writing noticed? A Must-Do Panel for Writers in the Modern Age
You've finished a story or book and now you'd like to get it published and start buzz about your work. But in this modern age, the avenues for publication and promotion are dizzying, and they often tangle together. What are your options? What will bring you the most word of mouth? The most reviews? The best pay? Should you go it alone or seek a major publisher? Come talk with publishers, editors, con organizers, and reviewers about your options.
Panelists: Scott Edelman, Elektra Hammond, Don Sakers, Peggy Rae Sapienza, Mike Underwood, Jean Marie Ward
Sunday September 28th
12 PM — Jeff VanderMeer — The Southern Reach Trilogy
I'll be introducing Jeff VanderMeer as he speaks on the Ivy Bookshop stage.