Last Friday, I donated my car, Spicy Orange, to charity.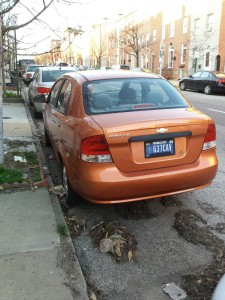 I barely used the car anymore – my fiance has a car she uses for commuting, and I rarely need to drive anywhere, since we live near the center of town and I work from home. Parking in my neighborhood is a nightmare, and the car was approaching the point where maintaining it was more expensive than the car was useful. We also live less than .6 miles from no fewer than three ZipCar stations.
Spicy Orange had been with me for nearly 10 years, including around a year of very heavy use when I was a traveling rep. The car has driven entirely across the country – from Eugene to the coast, and then back from Eugene to Indiana, and Indiana to my house in Baltimore, mere blocks from the water.
This car, at times called Turbomobile Mk. II, the Xavicar, and most recently Spicy Orange, was the first car I owned. I was very lucky in that the car was bought for me outright by my parents when I went off for grad school in Oregon. It's the car I drove to dance tango, my primary social outlet outside the house during my grad work. It's the car that drove me to Clarion West in 2007. The car that drove me to meet Meg on our first date. It's the first car that was mine, not a family car, and due to its bright orange color, it was always easy to find in parking lots, an asset which I cannot under-value.
I'll probably get another car, at some point. I'd love to get an Electric car at some point, partially because they are one of the things that represents The Future in my head. In the meantime, ZipCar can cover me for whenever I need a car during weekdays.
So farewell Spicy Orange. You served me well, and I will miss you.