It's PROMONADO time once again, this time for THE YOUNGER GODS, my new supernatural thriller.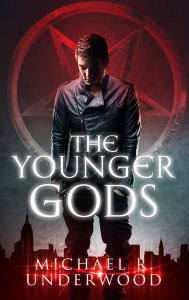 First, some juicy reviews:
"Underwood has definitely spun himself a web of complex and intriguing characters and plot, and I can honestly say I look forward to reading whatever else he puts out." – Beans Book Reviews

"The Younger Gods features a strong narrative voice, right from the start. From there, the plot moves at a ridiculous pace, in very intentional sort of way." – Ristea's Reads

"There's so much that goes into Jacob as a character, all of these layers and effects and influences are clear in his character making him very real, very complex and very interesting to follow." – Fangs for the Fantasy

"…a fun and fast paced read that I would recommend to any fan of the paranormal genre that is looking for something a little different." –Avid Reviews

"During the best moments, the complex supernatural network is reminiscent of what I loved about Neil Gaimen's Neverwhere; we're treated to what feels like the tip of the iceberg of a vast and complex world." – Throw This Book At Me

"The Younger Gods is a solid urban fantasy with an interesting premise and characters you can't help but get invested in." – Bibiotropic
On Monday night, I was a guest on the MythWits, talking about all three of my series, plus a game!
I did a Q&A at Fallen Angel Reviews.
Over at the Qwillery, I talk about writing a character with huge blind spots.
And at Mary Robinette Kowal's journal, I share My Favorite Bit of THE YOUNGER GODS.