Hello, world! I try not to do *too* much blatant self-promo, but this is one of those times where I will indulge.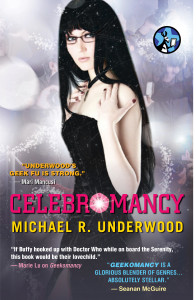 I'm over the moon to share the news that CELEBROMANCY has been selected as a Kindle Daily Deal in SF/F today. And on top of that, if you buy or have bought the ebook, the audiobook narrated (awesomely) by Mary Robinette Kowal is *also* discounted to $1.99. They have Whispersync, so you can jump back and forth seamlessly between the ebook and audiobook.
GEEKOMANCY is still a Kindle Big Deal at $1.99, so you can get both novels for only $4! That's less than a latte, and way geekier.
I'd love your help in signal-boosting to get the word out. There's never been a better (or more affordable) time to get in on the Ree Reyes series.