Today is the release of my first-ever second novel, CELEBROMANCY. *Happy author flail*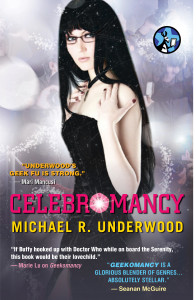 Since GEEKOMANCY came out last year, life has been an awesome-tastical blur. Among many awesomeness, the absolute best thing about being a published writer has been hearing from readers who saw themselves and their world in GEEKOMANCY, who responded positively to the celebration of Geek culture(s) which is at the heart of the novel.
CELEBROMANCY takes Ree's story and pushes it forward six months – Hollywood has come to town, bringing its own secret magical history and a whole new type of magicians – Celebromancers – who wield the power of fame. Ree has just sold her first pilot script, and it's being produced right in her backyard of Pearson. But when an invisible assailant comes after producer and star Jane Konrad, Ree gears up, Geekomancer style, to protect Jane and the whole production. CELEBROMANCY promises more geeky in-jokes, fun fight scenes, a love rhombus (33% better than a love triangle), and a for-realz Dragon (!).
And because today wasn't busy enough, I just submitted the next Ree Reyes story, tentatively titled FORTRESS GROGNARD, to my editor at Pocket Star. The work never stops. 🙂
As a sweet bonus, the audiobook of CELEBROMANCY is also available RIGHT NOW! It is narrated by Mary Robinette Kowal (who is, in my opinion, one of the best audiobook narrators I've ever heard, as well as being a marvelous, award-winning writer). So if you like to consume books through your ear-holes, you won't have to wait even a little bit to catch up with Ree and the gang.
CELEBROMANCY is being discounted to $1.99 for the first few weeks of its release, so you'll save 66% if you act before August 26th.
So if you want some CELEBROMANCY in your life, here are some links to the relevant e-tailers:
Ebook:
Audio: