Alex and I decided to do a blog post swap, and I'm very happy to hear about his thoughts on the apparent pirate boom of the last few years, and where his influences for the newest Eddie LaCrosse novel  Wake of the Bloody Angel, come from. I read the first Eddie LaCrosse book (The Sword-Edged Blonde) a couple of years back, and I loved the way he fused the hardboiled detective feel with a more familiar action fantasy setting. It's a smooth, fast ride, with some fun twists and a great character to spend time with. I'm very glad the series is ongoing, and since I love me a good pirate story, it's great to have Alex by to talk about swashing bucklers, old-school movies, and eyeliner.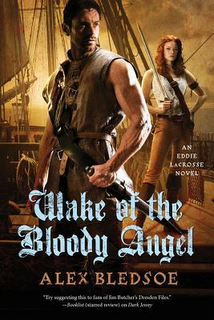 Surfing the Wave…or Not
by Alex Bledsoe
When I told people that the next Eddie LaCrosse novel, Wake of the Bloody Angel, would feature pirates, there were a few skeptical raised eyebrows.  I knew what they were thinking, too: "bandwagon jumping a bit, aren't we?"  And I can understand why they'd think that, although my interest in pirates began long before Johnny Depp applied all that eyeliner.  But it also made me look at the current "pirate boom" in some detail, and I realized something surprising: there's not one, at least not in the movies.
The first wave (no pun intended) of pirate popularity began in 1926 with Douglas Fairbanks, Sr. in The Black Pirate.  Then came such classics as Captain Blood, The Sea Hawk, The Black Swan (the one with Tyrone Power, not Natalie Portman) and The Crimson Pirate.
Over the years there were attempts to revive the genre, such as Swashbuckler with Robert Shaw, Nate and Hayes with Tommy Lee Jones and Pirates with Walter Matthau.  There was even a big-budget movie of The Pirates of Penzance, starring Kevin Kline and Linda Ronstadt.  But none of these caught on.  Pirates, it seemed, were old (tri-cornered) hat.
Then came Johnny Depp in Pirates of the Caribbean: The Curse of the Black Pearl.
The modern pirate era started with him.  And it also stopped with him.  Because it's not really about pirates, any more than Twilight, to its fans, is really about vampires.  What people are enamored of is Captain Jack Sparrow.  Not Johnny Depp, as his subsequent flops (The Rum Diaries and Dark Shadows) bear out. It's entirely that character.
And I can't argue with that.  Especially in that first movie, Jack Sparrow is one of the most eccentric action heroes ever, a full-blooded oddball standing in where common sense says there should be a modern Errol Flynn.  Only an actor of Depp's talent and stature could get away with making the hero vaguely effeminate, apparently stoned and almost entirely (within the story) sexless, and yet still have audiences love him.  Each subsequent movie has, to me, gotten weaker and weaker as they attempt to make them bigger, burying the most unique thing–Jack Sparrow–under more and more generic tropes of tentpole action movies.
And that's sad, because people love Jack Sparrow. It's not pirates, or sea monsters, or mermaids, or sailing ships.  They want Captain Jack in yet another story, mincing around and spouting odd non-sequiturs.
It's significant that there have been no other pirate movies to speak of in the wake (heh) of Jack Sparrow.  No one's put Depp into another pirate role, the way Errol Flynn went from Captain Blood to The Sea Hawk to Against All Flags.   No one has appeared to challenge him, as Tyrone Power did in The Black Swan.  There have, in fact, been no other big-budget pirate films at all, and very few low-budget ones, despite Pirates of the Caribbean: Dead Man's Chest being one of the top-ten grossing movies of all time.  Why is that?  I honestly don't know, since modern filmmakers love nothing more than a success they can copy.
And so, since none of the pirates in Wake of the Bloody Angel resembled Jack Sparrow, I didn't really feel like I was jumping on any bandwagons.  My inspirations came from movies such as Errol Flynn and Maureen O'Hara in Against All Flags, and real-life pirates like Black Sam Bellamy and his ship the Whydah.  But if a Jack Sparrow fan decides to pick up Wake of the Bloody Angel, I hope they'll enjoy what they find–swashbuckling, sea battles, supernatural mysteries and just a hint of romance–equally as much.