The Cake is a Lie.
Underneath a clever physics game is gleeful homicidal glee with a cute voice.  Valve's Portal, originally packaged in with Half-Life: The Orange Box, is a gem of a game that earned countless accolades last year.
Portal takes the simple idea of a two-way portal gun and makes a whole (if short) game around it, showing off their physics engine and their dark sense of humor.
In Portal, the closest thing you get to a weapon is the portal gun, which can shoot at a plane and create a portal on that plane, which connects to the other end of the portal, which you also deploy.  This lets you get up high to push buttons, or to send plasma balls around corners to activate switches, or to jump through the portal so you can jump through the portal again and use the accumulated velocity to jump up to new platforms.  The game is a clear test of the user's physics knowledge and critical/spatial problem solving skills.
I also think it should be used in Physics classes world-wide, as possible.  The idea of vectors, conservation of momentum, and many other principles of physics are at work in Portal.
But if Portal were just a physics tutorial in game form, it wouldn't be anywhere near as fun.  Along the way, your guide/host/jailkeeper is GlaDOS, an erratic computer that talks you through the early puzzles, unraveling to reveal its sadistic streak and its nature as the architect of countless attempts on your character's life.  Physics experiments to test the portal gun and human ingenuity give way to the increasingly dangerous tests, where the player is prompted to design complex plans of layered portal use, planning several steps ahead.
Portal is the exact kind of video game that Steven Johnson (of Everything Bad is Good For You) declares as laudable — not only does the player have to explore and probe the world of the game, they are forced to think critically, implement their spatial awareness/intelligence, and are rewarded for their cleverness but also their curiosity, as occasional glimpses behind the curtains reveal previous test-subjects desperate scrawlings on the walls between the test areas, writings that indicate GlaDOS's hidden agenda, the virtues of the companion cube (a weighted cube that is used as the only other tool at the character's disposal), and most of all, that
The Cake is a Lie.
"Still Alive," the game's theme song, has become a geek music classic, makings its way through the livejournal/blogosphere shortly after the game's release, and helping to catapult Geek Rocker Jonathan Coulton (who wrote the song) into the limelight within the subculture.  Another indicator of "Still Alive"'s fan appeal can be seen in the fact that it was released as a free downloadable track for the game Rock Band.
The game is now available for download on XBox Live arcade, which is how I played it.  It is more than a mere tech demo wrapped in a thin game shell, and that elevation is thanks to tone and style– if GlaDOS had been unironic and uninflected, she/it would have been just another stereotypical computer-gone-evil.  Instead, she has earned a place as an iconic computer-gone-evil, appearing beside favorites such as HAL9000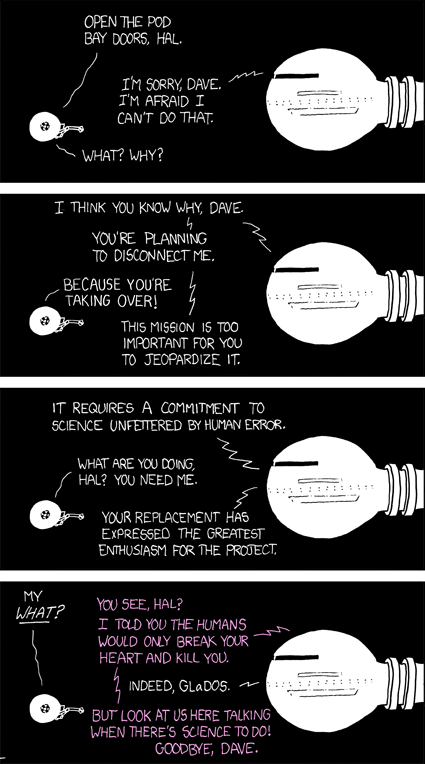 Everything interesting about Portal adds up to a charmingly demented game that will make you laugh while you're running around trying not to get blown up and figuring out how to arrange portals so you can get to the next room.